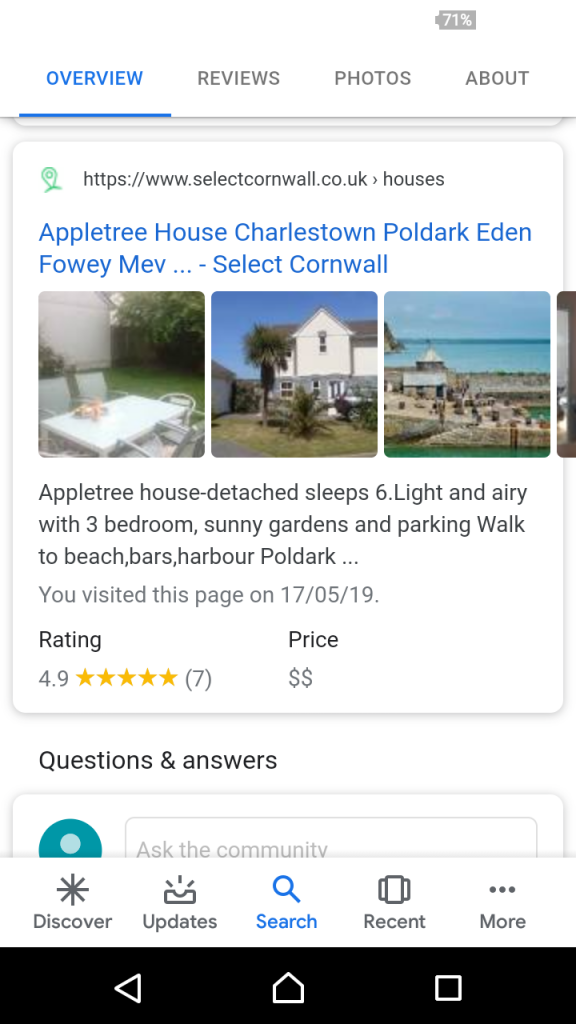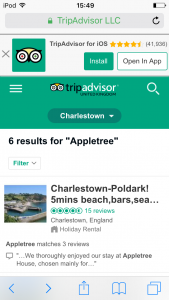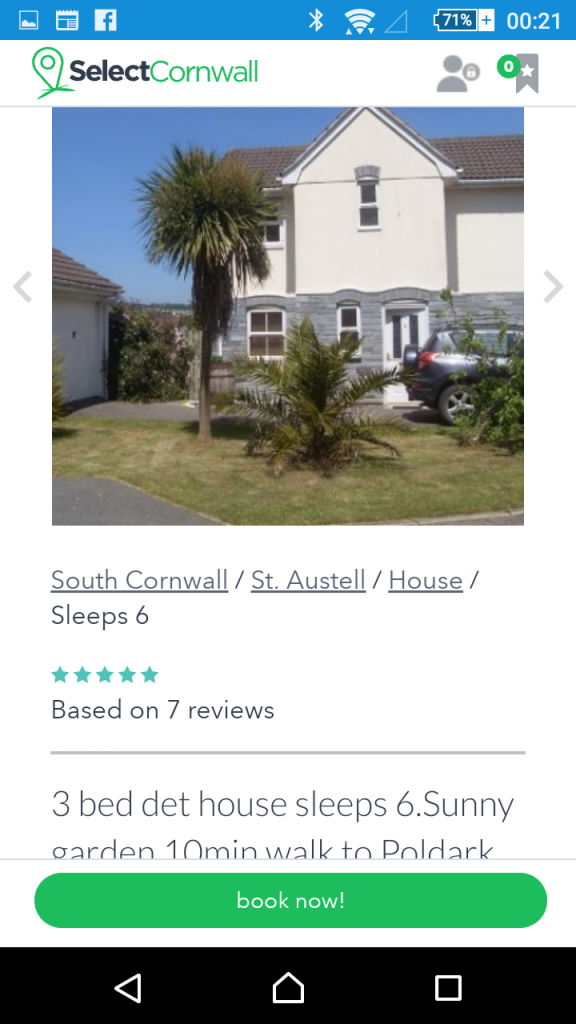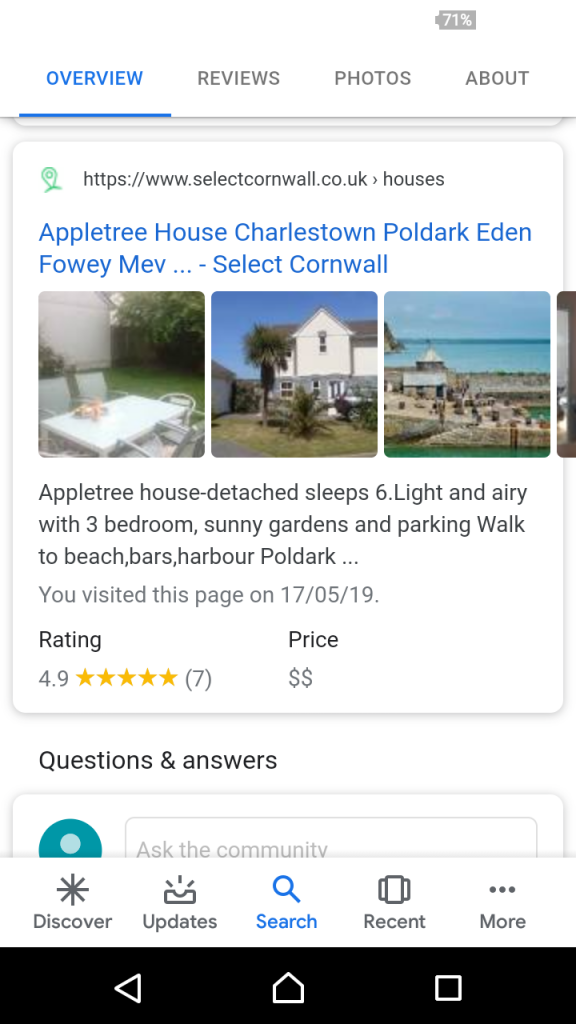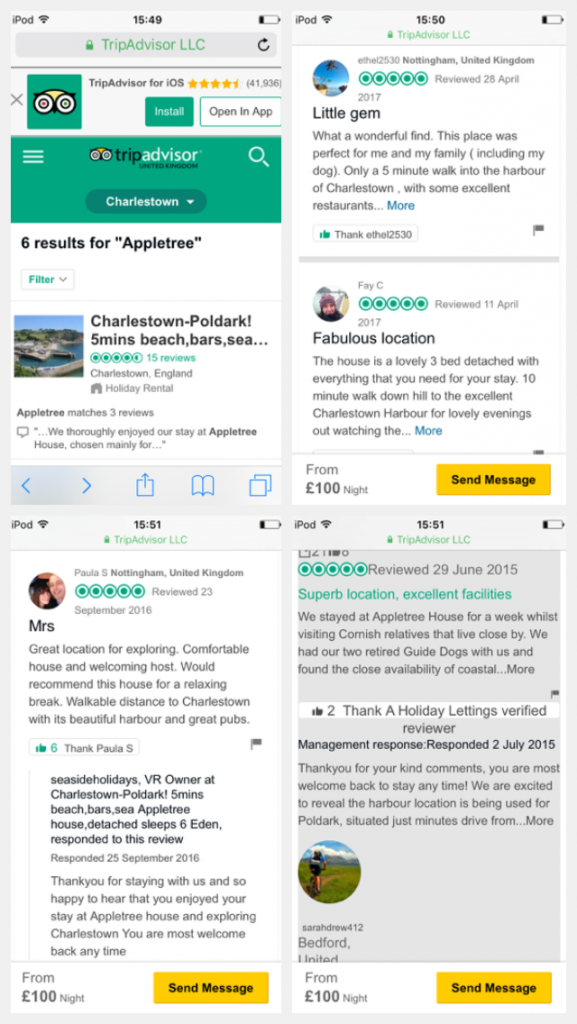 "Appletree house was just as described.We have been back twice now,during winter and summer. The fire is lovely after a winter coastal walk,with some lovely scenery on the doorstep.We found the manual and planned our week. Plenty to see in the surrounding area"
Janice, Bristol
"Rooms were a good size and clean and comfortable. Great value, we paid more to stay in a caravan last year. We visited Eden and Heligan. We shall definitely be returning…"
Michael, Cambridge
We really love the house, very light and airy,whilst comfortable too. Plenty to do here, the kids really enjoyed the area, lots of family days out nearby and the personal recommendations are great!"
100% of guests would stay again
sarahdrew412
Bedford, United Kingdom
"Lovely holiday home – perfect for our family holiday."
Left on

 05/30/2015 

for a stay in May 2015
Myself , my partner , children and dog enjoyed our stay in this lovely property. Perfect for a family. Charlestown is stunning. Shops are all near…..we really enjoyed our stay. I would definitely recommend !
Recommended for: Travelers, Families w children
Sunbites "Nice house, good location"  Left on 04/25/2015 for a stay in April 2015
Nice house quiet neighbourhood, close to Charlestown and it's amenities, providing easy access to other locations ie Eden, Fowey and beaches
Recommended for: Travelers
"Fantastic house – we had a great time!" 

Left on

 07/02/2013 

for a stay in June 2013
Upon arriving at the house it definitely had the wow factor. A very cute modern house in a quiet close only five minute walk from the little harbour, pebble beach and plenty of pubs and restaurants.
From the very beginning Zehra (the owner) was quick to reply to any questions I had. Even when one of my friends, who was cycling to Cornwall from London with two others, hurt his knee and had to arrive by train earlier than expected Zehra was more than helpful and gave him the key to the house. It was really appreciated!
The location is great perfect for walks, only ten mins easy drive to sandy beaches, three min drive/ten min walk to a Tescos and ten min drive to the Eden Project which was perfect for us as we were going to the Eden Sessions Sigor Ros gig there. Costing only £10 for a taxi, between five of us it was great!!
Slight down side was the lack of wifi but with 3G on most phones nowadays it wasn't a big problem at all. Really can't fault this accommodation at all, we had a great time and would definitely recommend it.
Would you recommend this vacation rental to a friend? Yes
Recommended for: Travelers, Friends, Families w children
A FlipKeyverifiedreviewer  Bristol
"Apple tree house" 

Left on

 08/16/2009 

for a stay in August 2009
We arrived to find the key in exactly the place that had be describe to us.
The house was clean and tidy. There was a folder which explained where the amenities were and what the local attractions were. My husband and I sat down and planned our weeks activities using this.
We visited Charlestown the evening we arrived and found a little park as described in the folder which was great for our little boy.
The bedrooms were a good size and we had three bathrooms so there was never a queue. The sofas in the living room were comfy and my two year old loved the bamboo nest and often sat in it to have his bed time bottle.
It was good to have both a bath and a shower in the house. This meant we could all get ready to leave in half the time.
On the whole we had a great time it was close the St Austall which had a fab pub restaurant (the white hart). Parking at St Austall rail station was just 2.20 for the whole day so you could have a worry free day out.